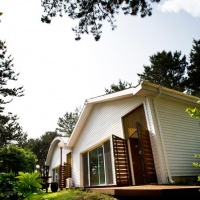 Resort

실속형 허니문, 가족을 위한 최고급 리조트
RnBtown은 가족들의 편안한 휴식을 위한 공간입니다. 편안한 휴식을 위한 시설과 특급호텔의 고급스러움과 편리함, 서구의 자유로운 스타일까지 만끽할 수 있는 여러분의 휴식 공간입니다.

Nature

자연속에 자리잡은 자연과 하나되는 공간
한라산 중턱 5000평의 대지위에 서귀포 앞바다의 그림 같은 파아란 전경이 손에 잡힐 듯한 풍경속에 한라산의 웅장함을 배경으로 자리잡고 있습니다. 기존호텔이나 콘도의 건조함을 벗어나 원시림의 자연과 감귤, 차, 표고버섯 등 자연의 숨소리와 함께 호흡할 수 있는 공간입니다. 밤이면 은하수가 마당으로 쏟아질 듯한 이곳... 자연을 벗삼아 바베큐 파티를 즐기면서 RnBtown에서 하룻밤을...

Business와 문화공간으로의 RnBtown

40평 규모의 세미나실의 활용을 통해 Business를 위한 공간으로 손색이 없어 단체 Workshop이나 모임에 알맞은 환경을 갖추고 있습니다. 어린이 체험학습, 각종 문화시설의 확충을 통해 문화공간으로의 RnBtown을 지향하고 있습니다.

*보증금은 공과금을 공제한 후 퇴실시 반환됩니다.

★위 숙소는 '미스터멘션 환불정책'을 따르는 숙소입니다.★
(미스터멘션 환불정책 : http://www.mrmention.co.kr/help/5 )
-----------------------------------------------------------------------------------------------------------------------------------------
RNB Town Resort
Location
The RNB Town resort is located on hillside of Mt.Halla with ocean view, minutes away from Seogwipo city. The resort is completely secluded away from other tourist spots and local businesses, providing complete serenity.

Surrounding
The resort covers 4 acres of minimally altered natural environment with local plants and fruit trees. There are 8 independent suites spread out in the resort property providing maximum privacy for guests of each unit.

Unit descriptions
The resort has 4 units of honeymoon suites and 4 units of family suites. Each unit boasts different themes, provides 900 sqft of living space, well equipped kitchenette, Korean style heated floor, and private yard for grilling and picnic.

이 숙소의 달력은 2017-10-06 17:10에 마지막으로 업데이트 되었습니다
이 호스트의 예약수락율은 96.8% 입니다
Accomodation Facilities
Basic facilities

Kind of accomodation : A studio apartment
House size : 24
the number of bedrooms : 1
the number of beds : 1
the number of bathrooms : 1

Basic facilities

Kitchen(Individual)

Rice cooker

TV

Utensils

Air conditioner

Internet

Hair dryer

Wifi

Refrigerator

towel

마당

바다 근처

heating

Additional facilities

Bath tub

Laundry Washer(shared)

Free parking

Shampoo

Cooking available

price
per a night : 51,725( a month 1650027.5 WON ) / basic deposit : 300000 WON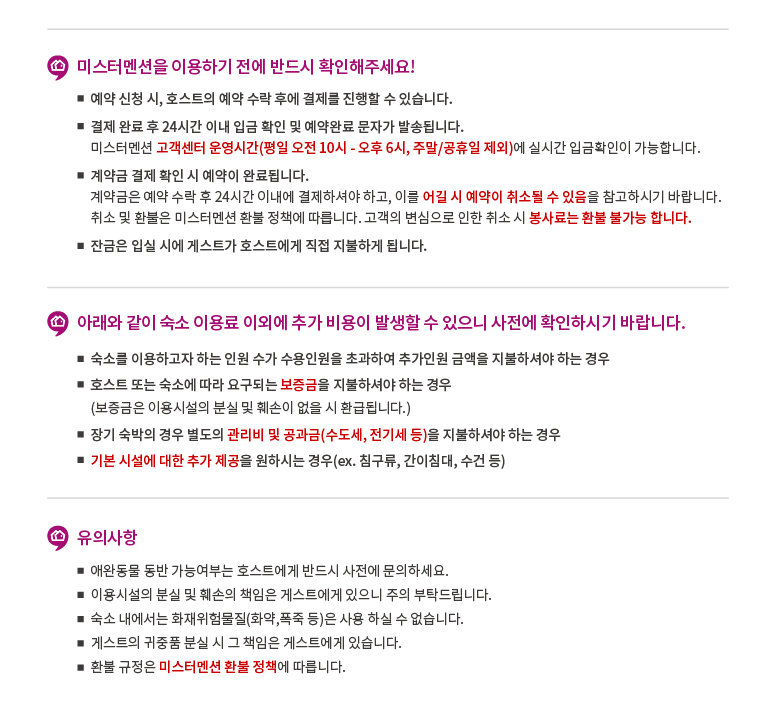 3,862,800 (62% 할인)

1,500,025 / 1달

※

min

available room over

1 nights

※ The above amount may be different depending on the off-season and peak season.
이 숙소의 달력은 2017-10-06 17:29에 마지막으로
업데이트 되었습니다.
Payment and refund guide
Payment, comission, tax invoice, cash receipt guide
1

In MR,MENTION, you can pay the down payment if host accepts your reservation.

2

MR,MENTION require the down payment to guest for safe trade and credit. Guest pay the down payment for booking complete.
The down payment is

40~50% of tatal accomodation price(except deposit)



When you leave, you can get partial deposit(except taxes) back.

(Amount except bills)




Pertinent data and standard for including taxes may vary depending on hosts




① credit card, check card
② Paypal payment
③ Account transfer
Busan Bank 256-097015-01-038
MR,MENTION

3

The down payment will be deposited on the host every friday after the guests pay.

Every Friday from the day of arrival to the host,

,The balance except the down payment wi

4

If guest want to issue tax invoice and cash receipt, it is possible.

5

Cancel or refung is according to Mr,Mention refung policy. It can not be refunded if the guest cancels the booking due to guest's change.