 프라소는 방콕 중심부에 위치한 풀옵션 숙소입니다.
공항철도까지 10분, 태국의 지하철인 MRT역 까지 3분 거리에 위치해 있습니다.
숙소에서 3분 거리인 MRT RAMA9역은 지하철BTS의 Chit Lom역, Ploen Chit역과 가까워 환승이 편리합니다.
근처에 세탁소, 마사지샵이 있고 숙소 바로 아래에 세븐일레븐이 있습니다.
24시간 CCTV가 작동합니다.


*보증금은 별도입니다.
주의사항
게스트님의 안전한 예약을 위해 미스터멘션에서 직접 예약가능 여부를 확인하고 있습니다.
호스트의 처리 속도에 따라 응답대기 시간이 발생할 수 있습니다.
Accomodation Facilities
Basic facilities

Kind of accomodation : A studio apartment
the number of bedrooms : 1
the number of beds : 1
the number of bathrooms : 1

Basic facilities

TV

Cable TV

Air conditioner

Kitchen(Individual)

Internet

Wifi

편의시설

Additional facilities

Free parking

elevator

Laundry Washer(shared)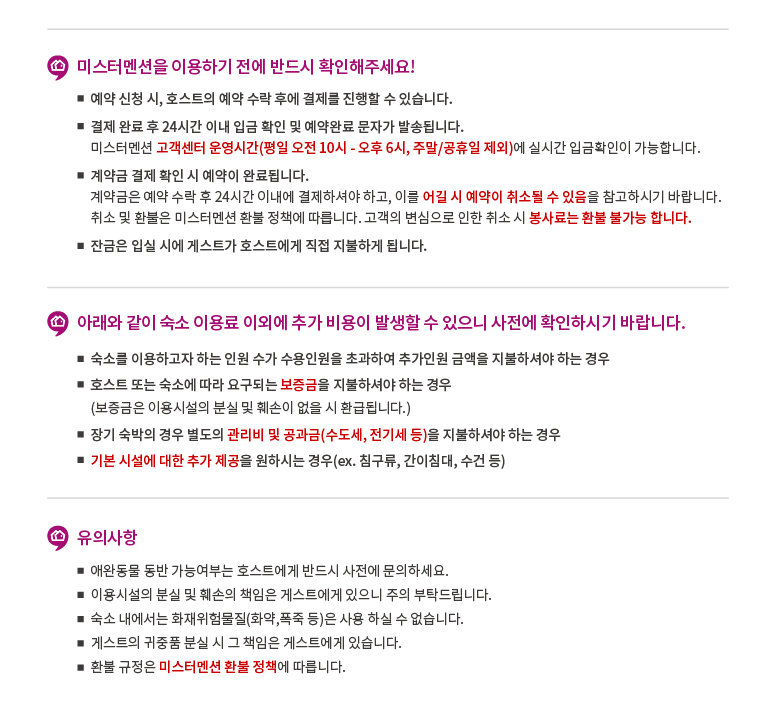 1,077,206 (68% 할인)

346,747 / 1달

※

min

available room over

180 nights

※ The above amount may be different depending on the off-season and peak season.
주의사항
게스트님의 안전한 예약을 위해 미스터멘션에서
직접 예약가능 여부를 확인하고 있습니다.
호스트의 처리 속도에 따라 응답대기 시간이 발생
할 수 있습니다.
Payment and refund guide
Payment, comission, tax invoice, cash receipt guide
1

In MR,MENTION, you can pay the down payment if host accepts your reservation.

2

MR,MENTION require the down payment to guest for safe trade and credit. Guest pay the down payment for booking complete.
The down payment is

40~50% of tatal accomodation price(except deposit)



When you leave, you can get partial deposit(except taxes) back.

(Amount except bills)




Pertinent data and standard for including taxes may vary depending on hosts




① credit card, check card
② Paypal payment
③ Account transfer
Busan Bank 256-097015-01-038
MR,MENTION

3

The down payment will be deposited on the host every friday after the guests pay.

Every Friday from the day of arrival to the host,

,The balance except the down payment wi

4

If guest want to issue tax invoice and cash receipt, it is possible.

5

Cancel or refung is according to Mr,Mention refung policy. It can not be refunded if the guest cancels the booking due to guest's change.