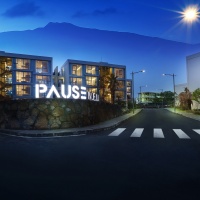 < PAUSE IN JEJU HOTEL >

유럽풍 Glass House로 설계되어 있는 '파우제 인 제주'는 매일 다른 풍경을 선사하는 웅장하고 아름다운 한라산을 배경으로 하고 있습니다.
Paul Smith, Tom Dixon 등 세계적인 디자이너와의 콜라보로 탄생한 최고급 바닥재 'Bolon' 제품과 유럽 거장 디자이너로 손꼽히는 판율, 아르네 야콥센 등이 유럽의 클래식한 감성을 현대적인 감성으로 재해석한 북유럽 프리미엄 가구 브랜드 'Hay'의 제품을 만나실 수 있습니다.
건강해발 고도 한라산 275m 에 위치한 신축 호텔로, 1만평 대지위 22개동으로 펼쳐져 376개의 객실과 6가지 타입의 룸을 가지고 있습니다.
서귀포 시내 중심에서 10분 거리이며 주변에 한라산 성판악, 사려니 숲길, 외돌개, 천지연 폭포 등의 명소가 있는 '파우제 인 제주'에서 소중한 사람과의 특별한 추억을 만드세요.

---------------------------------------------------------

※ 파우제 인 제주 취소 규정 ※

▶ 입실일 기준 7일 전 총 결제금액 100% 환불(서비스이용료 제외)
▶ 입실일 기준 6~4일 전 총 결제금액의 30% 부과(서비스이용료 제외)
▶ 입실일 기준 3~1일 전(18시 이전) 총 결제금액의 50% 부과(서비스이용료 제외)
▶ 당일 취소 18시 이전 총 결제금액의 70% 부과(서비스이용료 제외) / 18시 이후 총 결제금액의 100% 부과
▶당일 미입금시, 현장에서 체크인이 거부될 수 있음을 알려드립니다.
이 숙소의 달력은 2017-03-21 14:03에 마지막으로 업데이트 되었습니다
이 호스트의 예약수락율은 50% 입니다
Accomodation Facilities
Basic facilities

Kind of accomodation : A studio apartment
House size : 13
the number of bedrooms : 1
the number of beds : 1
the number of bathrooms : 1

Basic facilities

TV

Air conditioner

heating

Kitchen(Individual)

Electronic port

Hair dryer

Refrigerator

Additional facilities

Breakfast

elevator

Doorbell/Intercom

Public transportation available

Terrace

Special facilities
Accommodation safety

Fire detector

First aid kit

Fire extinguisher

price
per a night : 20,690( a month 660011 WON )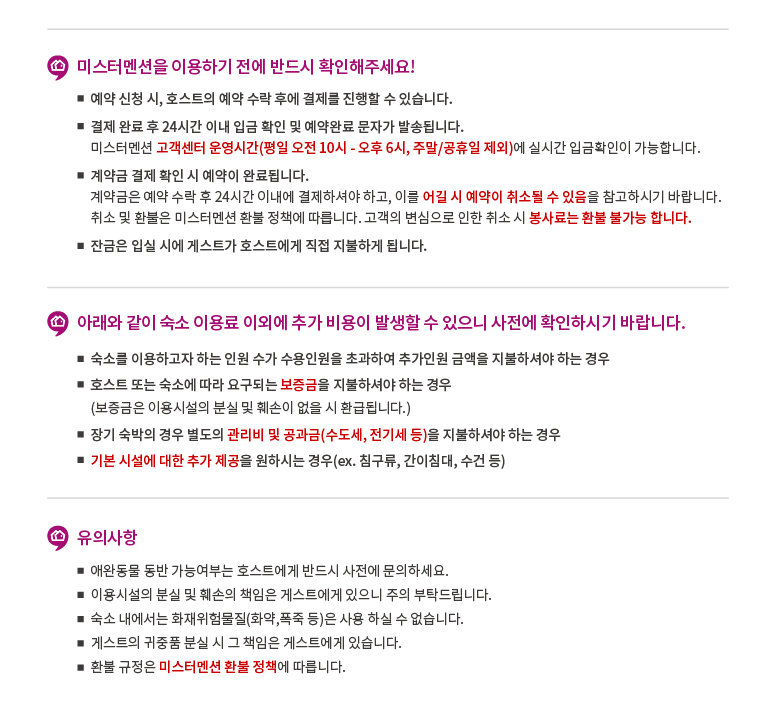 666,011

600,010 / 1달

※

min

available room over

30 nights

※ The above amount may be different depending on the off-season and peak season.
이 숙소의 달력은 2017-03-21 14:45에 마지막으로
업데이트 되었습니다.
Payment and refund guide
Payment, comission, tax invoice, cash receipt guide
1

In MR,MENTION, you can pay the down payment if host accepts your reservation.

2

MR,MENTION require the down payment to guest for safe trade and credit. Guest pay the down payment for booking complete.
The down payment is

40~50% of tatal accomodation price(except deposit)



When you leave, you can get partial deposit(except taxes) back.

(Amount except bills)




Pertinent data and standard for including taxes may vary depending on hosts




① credit card, check card
② Paypal payment
③ Account transfer
Busan Bank 256-097015-01-038
MR,MENTION

3

The down payment will be deposited on the host every friday after the guests pay.

Every Friday from the day of arrival to the host,

,The balance except the down payment wi

4

If guest want to issue tax invoice and cash receipt, it is possible.

5

Cancel or refung is according to Mr,Mention refung policy. It can not be refunded if the guest cancels the booking due to guest's change.